GIL ELVGREN 1940s VINTAGE ORIGINAL PAINTING Pin-Up GETTING POSTED FAN MAIL PinUp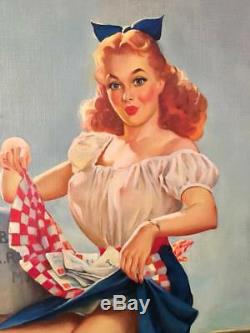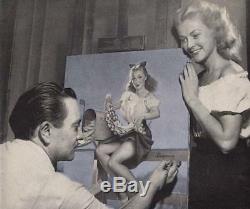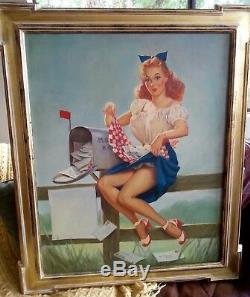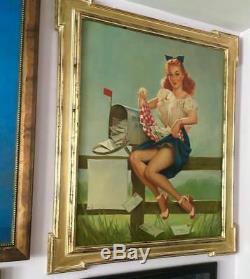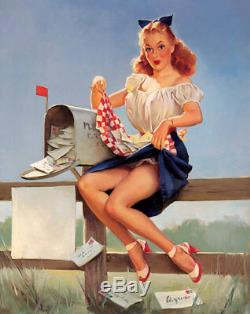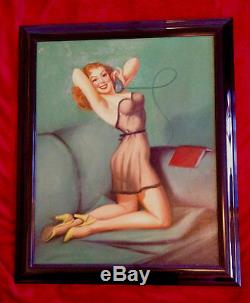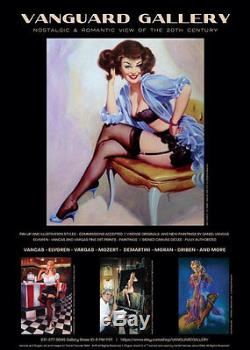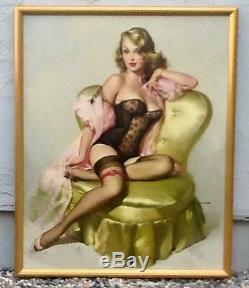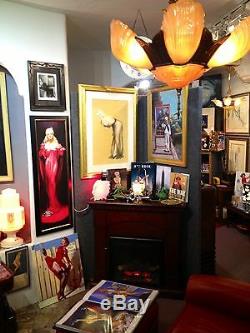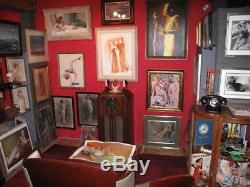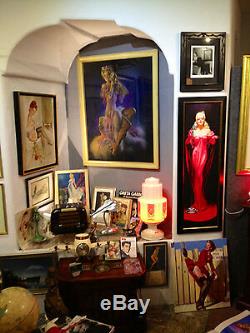 FOR SECURITY REASONS, THIS PAINTING IS NOT IN MY RESIDENCE, SHOP OR STORAGE. IT IS IS A THIRD PARTY SAFE AND SECURE LOCATION. FIRST TIME THIS RARE CIRCA 1948-49 PAINTING HAS OFFERED IN 20 YEARS. PRICE WILL INCREASE IN 5 DAYS WITHOUT NOTICE. VINTAGE 1947 ATTRIBUTED ELVGREN DEMONSTRATION PAINTING OF.
By GIL ELVGREN a demonstration or instructional aid with artist Carlyle. Vintage original painting as seen in photos #1, 3 and 4 only. A vintage demonstration painting by CARLYLE with ELVGREN circa 1947-48 OIL ON CANVAS 24X30. PERSONAL INSPECTION ONLY ON CONFIRMED REQUEST. YOU MUST BE PRE-QUALIFIED AND ID CONFIRMED.
OFFERED ORIGINAL VINTAGE DEMONSTRATION PAINTING BY CARLYLE and GIL ELVGREN. FIRST TIME OFFERED FOR SALE SINCE 1998. ORIGINAL 1947 VINTAGE PIN-UP OIL PAINTING RECREATED BY ELVGREN AND CARLYLE. IN ADDITION I HAVE AND STILL, HAVE THE SAME VINTAGE ALL ORIGINAL CARLYLE PINUP "PINUP ON GREEN COUCH" THAT WAS COLLECTED WITH A GROUP OF ELVGREN PAINTINGS ALL FROM THE 1946-47 YEARS THAT WERE LOST BUT I FOUND IN PRIVATE COLLECTION AND STORAGE FOR OVER 65 YEARS.
THIS CREALY SHOWS THAT ALONE, CARLYLE IS NOT CAPABLE TO PAINT THIS DEMONSTRATION PAINTING WITHOUT PROFESSIONAL HIGHLY SKILLED ASSISTANCE, NOR DID HE HAVE THE TECHNIQUE, SKILL OR EVEN THE RIGHT COLOR PALLET ELVGREN USED. IT WAS COMMON KNOWLEDGE THAT GIL ELVGREN TAUGHT AND ASSISTED, EVEN PAINTING DEMONSTRATION PAINTINGS AND HELPING OTHER ARTISTS FOR ILLUSTRATION AND PINUP ART JOB MARKETS. ORIGINAL VINTAGE OIL PAINTING BELIEVED TO BE ACTUAL DEMONSTRATION PAINTING. ATTRIBUTED BY EXPERT OPINION DANIEL VANCAS TO BE CREATED BY THE HAND OF GIL ELVGREN with/and ARTIST CARLYLE. IN FINE VINTAGE STYLE FRAME.
Featured Photography Magazine photo of Elvgren with the model signing 1 0f 2 paintings he made. Note: that he signs this painting on the fence rail.
(This second painting is lost and still unfound). Photo # 1 (detail) 3., and 4. All of the vintage subject painting offered. A demonstration (3rd) painting by Elvgren/Carlyle circa 1947-48.
Note: That this painting submitted as sample work to B&B, the signature was on the letter on the ground, lower right. Original Carlyle pinup of the same late 40's period, from the same collection that I found and bought more than 22 years ago. Top Elvgren experts, Art Amise and Daniel Vancas agreed that this art collection with the many Elvgren originals of the same period including Elvgren's original "Getting Posted" that this demonstration painting was based was one of the last great cache' of Elvgren works to be found intact all dating of the late 1940's. Daniel Vancas also owns the original Elvgren easel and the Elvgren tm, art signature brand as approved and protected by by the Federal Court Order 2001. Elvgren painted more than 450 pinup paintings.
This painting is very Rare, as about 40% or more Elvgren paintings have been thrown away and never will be found. Whole ad and calendar company art warehouse though away happened several times in the late 1950's and 1960. This included many Elvgren paintings. Lost forever in landfills, this one survived, and no one knew!
This great one has been found in 1997 by Daniel Vancas and presented here for the very first time. Great condition for age, and typical of Elvgren and other artist pinup paintings with stable oil crazing.
Painting has been only lightly cleaned. A Rare resale from private owner after apx 70 years!
If you like original Elvgren and pinup paintings please see our other art offerings! C OF A and LETTER OF OPINION BY DANIEL VANCAS SUPPORTING THE WORK ATTRIBUTED TO ELVGREN. (C) from the Vancas/Elvgren art archive, 1994, 1997 all rights res. ELVGREN PAINTS A DEMONSTRATION WITH CARLYLE - ORIGINAL PAINTINGS FOUND! ELVGREN Liked this image and painted it several times.
This Pinup as featured in the Photography Magazine. These are two Pinup paintings both originals painted 1946-47 24x30 oil on canvas. Then he paints in collaboration an instructional demonstration piece with a contemporary artist at the same time and group, with fellow calendar artist named Carlyle. To put this visual evidence together, here are the photos by order of collection shown. All paintings are oil on canvas and 24x30, and vintage made late 1940's.
It is Estimated about 40% of all of the Elvgren paintings were thrown away. (This painting I still unfound). The rare Original Elvgren painting used for the B&B calendars that I found, owned and resold at the same time. Note: That this painting submitted to B&B, the signature was on the letter on the ground, lower right.
Original Carlyle pinup of the same late 40's period, from the same collection that I found and bought 20 years ago. The skill level is less, technique, style and color pallet are all different from the subject painting though all were painted at the same time period and found as collected together since 1949/1950.
As shown is the original Elvgren in comparison to the original instructional demonstration piece. I believe ELVGREN was helping an artist name Carlyle, most likely done while he was working at the ad firm Gross or while giving instructions at the Chicago Art Institute school. Carlyle also submits art to Calendar company B&B with Elvgren collection of same time period.
(See painting # 6) Carlyle confirms that Elvgren assisted him in his own signature with notation, "With apologies to Elvgren", Carlyle, signs on the same letter location. I conclude that Carlyle was apologizing as he was NOT the main artist for the work, nor was he capable of making such a fine work without the demonstration and assistance painting of Elvgren guiding him. Historically, Elvgren did make multiple copies of paintings and teaching, guiding and even completing other artist work. This has been already established in the historical record, personal accounts and books.
This I also confirmed with my longtime friend and client, Art Amise, who was both the first true collector and personal friend of Gil Elvgren. Art Amise as well as another early collector who personally showed me what was commissioned from Elvgren of repainting work that he did for the calendar Companies. Sometimes they were not signed, or sometimes these artists could use a alias name. This was common practice with illustrators who may not want to conflict with their exclusive contracts with advertisers and calendar companies.
This placed Carlyle's art with and in connection to B&B and Gil Elvgren at the time. Even the most casual viewer with little experience can see that there is a striking difference in skill and ability of these two Carlyle paintings, and could not be painted by the same artist, unless with a lot of professional help. This grouping of original Elvgren paintings was bought by one person directly from the Ad Company shortly after, circa 1949/50.
Decades later, I acquired them all, still as a group from the very same family. The group included Elvgren and Carlyle paintings. As you can see this demonstration painting is exceptionally good and could only be ELVGREN demonstration work, helping Carlyle, as Elvgren was known to help younger artists while demonstrating his painting techniques even directly on their canvases as well. Since I owned both of these paintings and have the 25 years experience and expertise working with, restoring, publishing, and replicated 240 Elvgren Pinup paintings, I can certify that the upper half of this Pinup body, all of her face and hair could only be painted exclusively by Elvgren, and with the Elvgren color palette, not the Carlyle color palette.
This opinion is further supported by comparison to a unique original painting that was painted by Carlyle alone (without the master artist Elvgren's assistance) that was from the same period and originally bought with the collection of Elvgren originals including the very same Getting Posted, Perfection, Elegance and several other original Elvgren paintings of the 1946-48 period; one can visually conclude that Carlyle could not paint the "Getting Posted" demonstration painting without the assistance of Elvgren. The collection of the art found together continues to cement this obvious connection between the two paintings and the two artists at the same time and period. This was about 20 years ago. After my client, unfortunately, passed away, I acquired this demonstration painting from his wife to offer again. I have enjoyed it for a couple of years now and this is my first offering of this painting in 20 years.
BOTH ORIGINAL VINTAGE ELVGREN PAINTING, FINE ART PRINTS, AND RECREATION OR DEMONSTRATION PAINTINGS ARE ALL FROM THE ART ARCHIVES OF DANIEL VANCAS/VANGUARD/ELVGREN AND THE EXCLUSIVE COPYRIGHTS OF DANIEL VANCAS (C) 1995, 1997 THR 2019 ALL RIGHTS RES. NOTICE: Elvgren tm is the art Brand owned by Daniel Vancas and Elvgren authority since 1994. Since 1994, Daniel Vancas is both the fine art publisher the only fully authorized Elvgren replica artist who has painted more than 240 replica paintings and performed restorations on Elvgren work.
A world authority of Elvgren original art. Note: Price is suggested and subject to change at any time, and will entertain best Highest Offers Only!
ELVGREN Tm is the exclusive art brand of DANIEL Vancas 1994 all rights res. DONT MISS OUT - THIS IS THE FIRST TIME THIS PAINTING HAS COME UP FOR SALE. DON'T MISS THIS OPPORTUNITY TO OWN MOST POPULAR ICONIC ELVGREN IMAGE! FULLY AUTHENTICATED, SIGNED, CREATED CIRCA 1947-49. SHIPS PROFESSIONALLY PACKED, CREATED AND INSURED.
DONT MISS OUT - THIS IS THE FIRST AND ONLY TIME THIS IMAGE HAS COME UP FOR RESALE IN 20YEARS! Elvgren tm, is an art signature and art brand owned by Daniel Vancas, 1994 - 2015, backed by a Permanent Federal Court Order, 2001, all rights res. VISIT MY OTHER LISTINGS IN MY SHOP!
WANT TO BE A VANCAS PINUP GIRL, OR HAVE ME PAINT A NEW CUSTOM ORIGINAL FOR YOU? LET ME AD A LISTING JUST FOR YOU! WANT TO BECOME A RETRO STYLE PIN-UP CALENDAR GIRL FROM THE 1940'S OR 50'S?
DO HAVE A COMMERCIAL APPLICATION FOR A RETRO STYLE PIN-UP? ARTIST DANIEL VANCAS of'VANCAS GIRLS - FAMOUS ELVGREN RESTORATION ARTIST, OFFERS PIN-UP - ILLUSTRATION AND FINE ART FOR PRIVATE OR COMMERCIAL REQUESTS. YOUR COMMISSION WILL BE PAINTED ON THE ORIGINAL 1930 ELVGREN EASEL. THE VERY EASEL THAT GIL ELVGREN USED TO PAINT ALL OF HIS FAMOUS PIN-UPS, COCA-COLA AND ILLUSTRATIONS! 1992 - FIRST IN ELVGREN AND THE RETRO PIN-UP REVIVAL!
NEW SCHEDULE - VERY LIMITED COMMISSIONS ACCEPTED ON REQUEST. 3-6 MIN MONTH LEAD TIME. 50% DOWN - 50% ON COMPLETION. OTHER ARTIST AND STYLES AVAILABLE.
PRICE BASED ON SUBJECTS, SIZE, OBJECTS, PROPS. CALL FOR MORE DETAILS ABOUT MAKING YOU OR YOURS OR OUR SUBJECT MODEL 1930'S, 40'S, 50'S STYLE PIN-UP. THIS IS FOR AN ORIGINAL PAINTING. ART PRINT AND PUBLISHING SERVICES AVAILABLE. AMERICAN STYLE DESIGNED - CRAFTED AND MADE IN THE USA by an AMERICAN ARTIST! 100% GENUINE AMERICAN PIN-UP ART BY DANIEL VANCAS. NO CHINESE OR OFF SHORE ART MILLS, NO FAKE NAMES, NO "NON-DE-PLUME" NO "UNNAMED AMERICAN ARTISTS " AND NO "FAKE ELVGRIN ARTISTS"! AS REPRESENTED BY VANGUARD GALLERY of CARMEL, CA.
VANGUARD GALLERY - Open by appointment only. The item "GIL ELVGREN 1940s VINTAGE ORIGINAL PAINTING Pin-Up GETTING POSTED FAN MAIL PinUp" is in sale since Tuesday, May 29, 2018.
This item is in the category "Art\Paintings". The seller is "vanguardgallery" and is located in Carmel, California. This item can be shipped worldwide.
Region of Origin: US
Artist: GIL ELVGREN
Style: Realism
Listed By: Dealer or Reseller
Painting Surface: Canvas
Medium: Oil on Canvas
Original/Reproduction: Original
Year: 1947-49
Features: Framed
Width (Inches): 24
Subject: PINUP GIRL Farmers Daughter mail, legs, up skirt
Height (Inches): 30